Kyoto has always had a special way of bringing together the old and the new. This is clearly present in traditional Kyoto villas. In Kyoto, the summers are hot and the winters are bitter cold. It is not an easy climate to live in. Thus, traditional Kyoto villas are the result of over 1200 years of ingenuity and wisdom. A stay at YAEYA TOICHICHO is the deeper "Kyoto" experience everyone desires.
However, amidst a long history of change and development, there will always be things that do not change… the four seasons are reflected in the Higashi Mountain range and the graceful Kamogawa River. From your room in YAEYA TOICHICHO, you can satiate your heart in the beauty of Kyoto.


YAEYA TOICHICHO is a traditional Kyoto villa limited to one group of customers per day. Though it has undergone restoration of its lodging for a comfortable say, it maintains traditional villa entryway and courtyard for your enjoyment.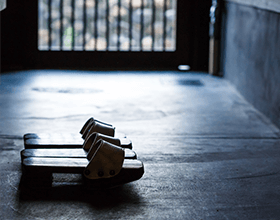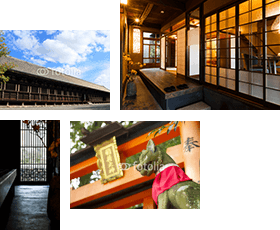 YAEYA TOICHICHO doesn't have resident staff. Though this is quite different from Japan's culture of catering to its customers, we believe you will instead be able to enjoy the luxury of living privately in your own Kyoto villa.

The interior design features works by "Le Corbusier", who is considered to be one of the greatest architects of 20th century, and beautiful "MINI" carpets. Please enjoy this amazing fusion of modern design and traditional structure.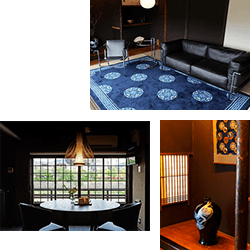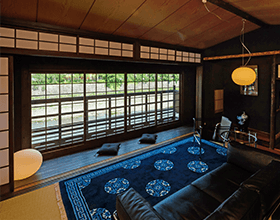 We are located near the forest people say was the model for the story of "Hikarugenji. " If the story is true, he might have written "Waka" poetry with this beautiful view as inspiration.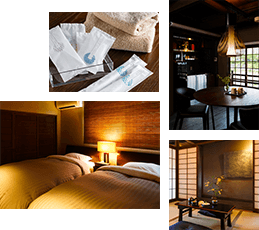 We offer various amenities and facilities for your comfort (such as cooking tools, dishes, laundry, etc.). We offer both "Futon" floor mattresses and beds. The beds are made by Sealy. Please enjoy a luxurious sleep.